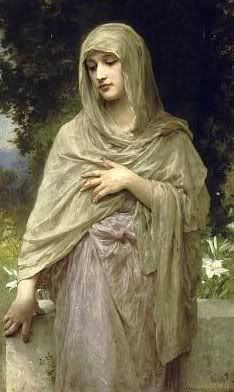 The last fifty years have given us a common argument about modesty that is largely unsound. We are worried about nudity because we are ashamed of our bodies. We are ashamed of our bodies because we think our bodies are bad. Therefore, we are worried about nudity because we believe our bodies are bad. If we didn't think our bodies were bad, we'd stop worrying about nudity. The argument here is valid, but is an unsound one, since the third premise, that we are ashamed of our bodies because we think our bodies are bad, is false. In this essay, I will explain different reasons other than believing our bodies are bad for us to be ashamed of our bodies.
First, let me define shame. By shame, I simply mean embarrassment, the emotion that can make us blush or giggle. We are embarrassed when something we wanted to remain private about ourselves becomes public. Hence, shame is the emotion properly attendant on the public revelation of something we wished had been private. It is not automatically true that shame means that I believe something is
bad
. It simply means that I believe something is
private
. This can include thoughts, feelings or parts of our bodies, parts that we think are properly ours and nobody else's to know of, look at or touch without our permission. When these things are revealed to those from whom we would rather not reveal them, we are ashamed or feel embarrassed.
Why then are certain parts of our bodies something of which we are ashamed? To address this, I'd like to reflect on Scripture. I'm not making an argument dependent on Christian faith here, though. I am just using the story for its psychological insight. In the Garden of Eden, Adam and Eve are naked before the Fall. They are without original sin and without the tendency to sin created by original sin. However, after their Fall, one of the first things they do is put on clothes. Why? Somehow the Fall has given them shame in their own bodies. Before the Fall, nudity was properly public. After the Fall, nudity was properly private. Somehow the tendency to sin is the cause of this difference. This is the psychological insight to which I was referring.
I'd suggest there are two ways in which the tendency to sin has created shame in our bodies. First, it has created the need for us to defend our bodies against unwanted sexual attention. Since fallen people now have inappropriate sexual desires, we are better able to interact with them if they are not distracted by our sexual characteristics. When we deal with people, we would normally like to be treated by them first as people, not as sexual objects. This is easier if we cover our most overtly sexual characteristics.
Second, it has created a need for privacy with respect to our own sexual desires. Our bodies, in various ways and especially for men, reflect our level of sexual arousal. However, since we now have inappropriate sexual desires at the inappropriate times, it is better for us to keep those desires private. It is good to be able to keep these desires private; in fact, a good deal of human courtship depends on keeping them private. With most of our inappropriate desires, this is not quite so clearly reflected in our bodies, but we can fairly easily hide the most overt signs of this arousal by wearing clothes. Therfore, we hide our bodies.
In conclusion, the psychological insight of Genesis is a profound one. We do not wear clothes because we believe our bodies are bad. Rather, we wear them as a result of sinful or unruly sexual desires. For these reasons, modesty is a good thing, as our sexual characteristics are best kept private. It protects us from sexual objectification and from the revelation of our own inappropriate sexual desires.