Note from Daniel: I will be heading on vacation to Ottawa for the next week and will not be able to feed my cat or update the site. Fear not, though. My parents will take care of the Professor and I will start updating again August 28th.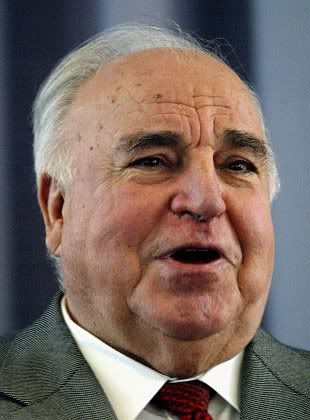 A few years ago, I took a German class in Germany, and there was one other Anglophone in the class, Ian. Periodically, we would burst into laughter at one of the words, leaving the French and Spanish students puzzled and the German instructor annoyed. A year or so after that, I took a German class in Toronto, and the same thing happened. Occasionally, the class would burst into guffaws (later turning into stifled guffaws as the course drew on and the instructor grew more stern). This got me wondering what it was about German vocabulary that so many English speakers found amusing. It wasn't amusing in the same Beavis-and-Butthead way that the French word for "seal" or the Greek word for "flowing through" are. Rather, it was something peculiar about English that made so many German words sound amusing to Anglophone ears.
English has a peculiar historical origin. It started off as the language Anglo Saxon, virtually the same language that modern German began as. After the Norman invasion in 1066, a great deal of French mixed into the language. Later, when new words or neologisms were created, they were created from Latin and Greek roots. Over time, many of these Latin and Greek words invaded the common tongue (words such as "invaded"). This gives English four different language sources that affect the language in very different ways. Anglo Saxon and French provide the base language and Latin and Greek provide most of the neologisms.
As a result, English developed something rather unique in a language, two virtually completely distinct registers. By a register, I mean a set of vocabulary used for a particular purpose or a particular social setting. The higher register, consisting largely of Greek and Latin neologisms, is used in academic or sophisticated settings. For instance, in writing an academic paper, one is more likely to say, "The dominant Romans demoralised the conquered Gauls using intimidation techniques" than "The Roman bosses scared the Gauls by beating them up". The converse is also true. The lower register, consisting largely of Anglo Saxon and a few French words, is used in casual social situations. At a sports bar, one is more likely to say, "You really talk a lot when you're drunk", than "You are positively loquacious having imbibed such a copious quantity of intoxicants".
Using these different registers, we are able to express different intentions and even emotions. For instance, if we want to be serious, we raise our register. It shows that the fun is over, and it's time to be serious now. Conversely, if we want to set someone at ease, we lower our register, switching to Anglo-Saxon-derived words. It's a sign of relaxation. When something from one social setting is taken and suddenly thrust in to a setting where it is inappropriate, it can be a source of humour. One thing I've noted is the way that academics sometimes suddenly drop their register when they hit the punchline of their joke. It can be funny to say, "In effect, Malvolio was a big loser" at the end of a complex academic argument. What is funny is that all that complex Latinized argumentation can be reduced to a simple Anglo Saxon insult. Similarly, in casual settings, to suddenly raise the register can be amusing, especially when an Anglo Saxon and Latinized adjective are combined. I may make a joke saying my Dairy Queen ice cream cone is an example of "swirly effervescence". Effervescence is a high-register word, appropriate to seriousness and not ice cream cones. The hyperbole or exaggeration is supplied by the register shift and provides the joke.
German, on the other hand, did not form its neologisms out of Greek and Latin. Rather, German formed its neologisms out of German itself. This is the source of the humour. The roots of the German high register, that is, the roots from which German builds it academic and sophisticated language, is the same roots from which English builds its low register. As I argued above, when something from a low register is used to describe something sophisticated, humour ensues. This is precisely what Anglophones hear when they learn new words in German. Sophisticated concepts are being presented in what appear to be unsophisticated terms. It is as though the sophisticated concept is being made fun of by deliberately using unsophisticated language.
Here are two examples. Let's take the English word "hydrogen". Everyone knows that chemical elements are serious business, so it is made from a Greek root. It is made from
hyder
, "water", and
gennao
, meaning "creates". The German word for hydrogen is
Wasserstoff,
which means exactly what it looks like it means, "water stuff". No self-respecting chemical element would ever be called "water stuff" unless it were duly translated into Greek. As such, calling hydrogen
Wasserstoff
is funny. Another amusing case I encountered a few weeks ago was the Church of the Immaculate Conception. Immaculate comes from the Latin prefix
in-
or "not" and the participle
maculatus
or "stained". However, the word for "Immaculate" in German is
Unbefleckte,
which, once one has learned a little German grammar, literally means someone who has no flecks on her. In English, the word "fleck" is a very low register word and would never be used to describe important theological concepts. As such, the term
Unbefleckte
provides humour by describing solemn concepts in what sounds like flippant vocabulary.
German is not funny
per se
, but it can often sound so to Anglophones. The cause of this is that English uses the same linguistic roots for its low register as German does for its high register. When sophisticated or solemn concepts are described with the same roots as colloquial English, it can often provide humour. This may provide frustration to German instructors, but helps English students to understand the sophisticated possibilities of their language's German roots.